Pan-Seared Salmon with Chimichurri
Posted: June 28, 2018
Filed under:
Recipes
Leave a comment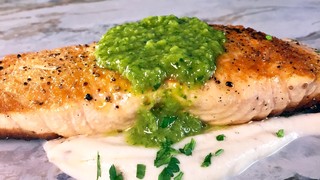 Pan-Seared Salmon with Chimichurri
Serves 4
1 cup fresh parsley leaves
1 cup fresh cilantro leaves
2 garlic cloves — minced
Salt and pepper
1/4 teaspoon red pepper flakes
1/2 cup plus 1 tablespoon extra-virgin olive oil
1/4 cup red wine vinegar
2 pounds skin-on salmon fillets
1) Combine parsley, cilantro, garlic, 1 teaspoon salt, and pepper flakes in food processor; pulse until coarsely chopped, about 5 pulses. Add ½ cup oil and vinegar; pulse, scraping down bowl as needed, until mixture is combined but still chunky, about 5 pulses. Transfer to bowl; set aside.
2) Pat salmon dry with paper towels and season with salt and pepper. Heat remaining 1 tablespoon oil in 12-inch nonstick skillet over medium-high heat until just smoking. Cook salmon, skin side up, until well browned, 4 to 6 minutes. Flip and continue to cook until well browned on skin side, 4 to 6 minutes. Transfer to platter. Spoon chimichurri over top. Serve.
---